Bellevue Business Lawyers
Experienced & Aggressive Litigators On Your Side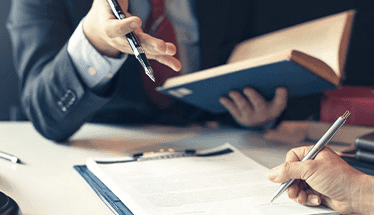 Today's business environment is complex, fast-paced, and always subject to change. To remain viable and thrive, you often need the advice and guidance of an attorney experienced in all aspects of business law, from local, state, and federal laws and regulations to how to manage daily operational issues, and more.
At Jerimy Kirschner & Associates, PLLC, we help guide business owners and officers through the legal landscape that affects your company at every level. Whether reacting to a problem or preventing a legal issue from becoming a major headache, we can help.
Our talented legal team is comprised of experienced tax planners, problem-solvers, and litigators who can provide assistance to businesses of all kinds and sizes throughout the greater Bellevue area.
Discuss your business legal issue with a Bellevue business lawyer to learn how we can help. Book your free consultation by contacting us online or at (206) 203-8802.
Comprehensive Legal Services for All Your Business Needs
Our corporate law attorneys in Bellevue offers various services in connection with business law, from getting your business off the ground to growing it and maximizing its value to passing it on to heirs or dissolving it. All of these actions can hold true for small individually-owned businesses to much larger corporations.
These services can include but are not limited to:
Business formation, in which we educate and guide you on how to best structure your business and register it with the state. Formations can be a sole proprietor, partnership, limited liability company (LLC), or some type of corporation; each formation has its own advantages and disadvantages that need to be weighed.
Contract negotiation, drafting, and review to prevent future problems between you and other parties.
Contract dispute negotiation or litigation, such as concerning breach of contract.
Breach of fiduciary duty disputes and claims wherein any party who owed a fiduciary duty to another has been accused of failing to act in their best interests.
Drafting and review of partnership agreements as well as resolving disputes between partners.
Employee-employer disputes can involve claims of discrimination and other violations of state and federal employment laws.
The creation of employee policy, programs, and handbooks to establish best practices at work.
Oversight of business financial transactions; these can also include debt collection, leasing a commercial property, and more.
Matters involving intellectual property rights.
Compliance with government regulations and laws.
Mergers and acquisitions.
Tax planning.
The purchase or sale of a business.
Transferring partnership rights and interests.
Business dissolution.
All of these business law matters can be complex and sensitive matters for which you will want a knowledgeable legal viewpoint and guidance in order to carry out actions legally and effectively. At Jerimy Kirschner & Associates, PLLC, we believe it is best to avoid legal mistakes through proactive planning; this can save you untold money, time, and stress that might otherwise threaten your business survival.
Our firm can also be retained as your "on-call" attorneys, available to give you the guidance you need when problems arise. This means you will have our continued support with various legal matters without having to start the representation process each time an issue comes up.
Call Us Today for a Free Consultation
Learn more about how we can help you keep your business on track with the knowledgeable assistance and guidance of our Bellevue business law attorneys by scheduling in a free, initial case review in which we can discuss your needs and objectives.
Reach out to us online or at (206) 203-8802 today.
We Treat Clients like Family
Experience was pretty seamless. - Manoj j.

Exceptionally professional, friendly, and timely - Kim Nardi

Kelley was very professional and knowledgeable in helping with my estate planning. - Valerie P.

We highly recommend them. - Greg B

We're so grateful - Sarah L.
Success that Speaks for Itself
Victories
Home Returned to Rightful Owner Charlotte Louise Bentley v. Estate of Lacy Elaine Willequer

The action was brought after guardians of the elderly and disabled Charlotte Bentley discovered that her home had been transferred away to an estranged family member. Mr. Kirschner was able to successfully and quickly obtain the return of her home without trial.

Justice Sought for Vulnerable Individual In the Matter of the Guardianship of Giulian Grasso

Mr. Kirschner and his co-counsel were successful in uncovering exploitation and misuse of the ward's funds by the ward's father which resulted in the father being charged and sentenced for exploitation of a vulnerable person.

Award Obtained for Client John Lynch and Kellie Fuhr Family Trust, et, al. v. Tyche Entertainment, LLC

Mr. Kirschner brought a successful suit by members of the LLC to have a receiver appointed over Tyche Entertainment, LLC and dissolution. At trial, Mr. Kirschner was successful in showing over one million dollars in improper transfer to managers and obtained an award for his client.

Successfully Defeated Claims of Trespass Kimberly Zeren v. James Carlson

This matter arose from a dispute between adjacent landowners over landlocked property and allegations of timber trespass. At trial, Mr. Kirschner was successful in defeating claims for timber trespass and prevailed on claims for an easement by necessity.

Judgment Successfully Overturned Millennium Drilling Company v. Beverly Myers, et. al.

Mr. Kirschner and the appellate team were successful in overturning the judgment rendered by the jury and having a judgment entered in his client's favor.
Providing Comfort & Protection
What Makes Us Different
Experience

Practicing Law since 2010 and earned his Juris Doctor at the University of Nevada-Las Vegas William S. Boyd School of Law.

Convenience

We have close offices in King and Pierce Counties in Washington and Clark County in Nevada— the convenience of close proximity to your attorney is key. We make it simple.

Knowledge

Washington, Nevada, the United States District Courts for Washington, and the United States Court of Appeals for the Ninth Circuit.

Cost-Effective

Solving problems and helping a client to select the most effective and cost-efficient tools.
Take the First Step to Protecting What You Love
Our team is dedicated to getting to know you, your family, and your unique situation. Reach out to us to begin the process of protecting your future.